Sepak Takraw Canada (STAC), "Has Set the Standard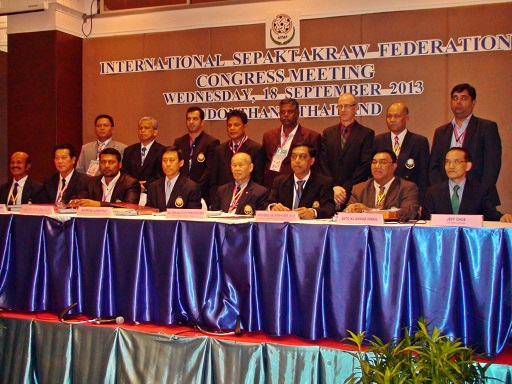 Attached Picture: Elected ISTAF Council Members for 2013 – 2017, Richard Engel is in the back row, third from the right.
Wednesday, September 18, 2013 (Thailand time)
Udon Thani, Thailand: Secretary General of the International Sepak Takraw Federation (ISTAF), Abdul Halim Kader, singled out and highly praised the Sepak Takraw Association of Canada for its development of the sport, stating, "Canada has set the standard, has created a model that any other country, especially the newer countries in the sport, can follow."  Richard Engel, President of STAC and administrator for Sepak Takraw Saskatchewan, was in attendance at the ISTAF's Congress today that was represented by over 70 people from 36 countries altogether. It was hosted at the same time as the 28th King's Cup Sepak Takraw World Championships. Mr. Engel presented ISTAF with the latest Editions of the Sepak Takraw Manuals that he has authored, and which have been instrumental in the development of the sport in Canada, USA, Europe, and even Asian countries … the 3rd Edition of Engel's "Sepak Takraw 101" was translated into Indonesian language and put into 3000 schools in Indonesia in a joint project between Engel, STAC, an Indonesian publishing company and the Indonesian government. STAC's Participant & Coach Development Models were also praised as templates that other new countries in the sport can follow to help them make their sport development plans. As well, at today's Congress, Engel was re-elected into a third term as 1 of 10 Vice Presidents of ISTAF from 2013 - 2017.
Unfortunately due to a lack of funding and no sponsor, STAC was not able to send a team from Canada to compete in the King's Cup, even though, as seen from the recent national tournament hosted in Calgary last month, Canada has several teams that have the level of skill necessary to compete in a world championship event like the King's Cup.