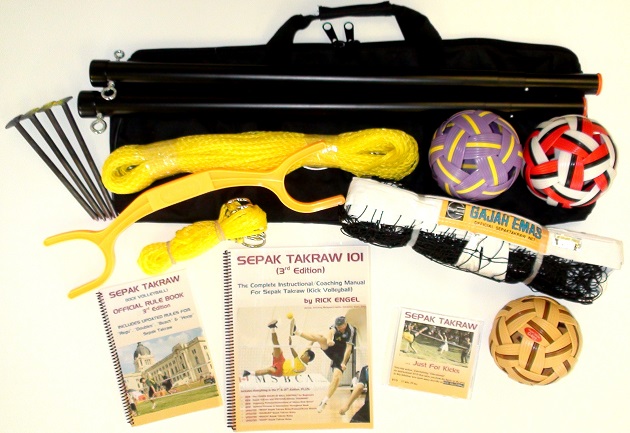 Although even badminton nets can easily double as takraw nets, a standard Takraw Net is heavier and stronger, with the netting weave also being courser than a badminton net but finer than a volleyball net. Since the ball can be played off the net in Sepak Takraw, a standard net that is attached tightly will also provide a nice rebound when the ball hits it, and this is usually not the case with most badminton nets. STAC has approved a couple of Takraw nets from Gajah Emas for official tournament use and for outdoor recreational use in Canada.
Excellent for the outdoors is the Complete Sepak Takraw Game Set, which consists of: a net, PVC or Aluminium telescoping poles, pre-measured court line with attached corner pegs, anchoring ropes & pegs to hold the poles up, 3 takraw balls, the Takraw 101 Complete Instructional/Coaching Manual, the Official Rule Book and an Instructional Takraw Video that all comes in a slick carrying bag. It's all very light weight, portable, and can be set up in less than 5 minutes! The complete Sepak Takraw Games Set is great for summer camps, parks, YMCA's and other recreation centres and outdoor intramural programs in schools and universities.
To purchase Takraw Nets or Complete Game Sets quickly and easily online, click here.