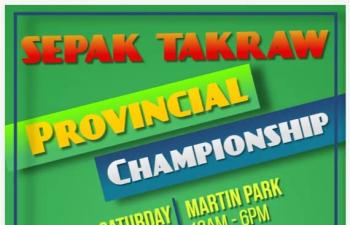 2023 BC PROVINCIAL SEPAL TAKRAW TOURNAMENT Aug. 12
We are very excited to announce the first official BC Provincial Sepak Takraw Championship Tournament! It will be hosted on Vancouver Island, in Martin Park, Courtenay BC. There will be 3 teams from the island competing against 3 other teams from BC's mainland. Top teams from this tournament will be encouraged to register for the national tournament taking place in Regina, SK, Sept. 2 & 3, where about 12 teams from ON, SK, AB & BC are expected to be competing for gold! If you are anywhere near Courtenay, you have to check out this tournament!!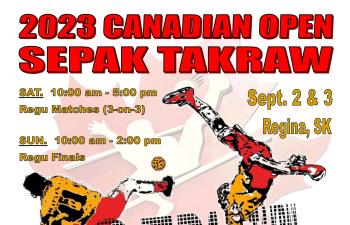 2023 CANADIAN OPEN MEN'S SEPAK TAKRAW CHAMPIONSHIP – Sept. 2 & 3
The 2023 Canadian Open will be hosted at the UNIVERSITY OF REGINA, GYM 2 on September 2 & 3. Regina is a booming little city located in the heart of the Canadian Prairies! This tournament is the annual premiere NATIONAL CHAMPIONSHIP event for the open age men's division.
All players must be a currently registered STAC Team/Club Member (added to the linked Team Registration Form. Clubs in all provinces have been encouraged to practice, compete against neighbouring clubs, host a tournament, and send their top teams to Regina to compete in this exciting event!
The 2023 Canadian Open organizing committee makes every effort to take care of local transportation, food and accommodation for teams competing in this event.
If you are from Regina and would like to see the incredible action of this event up close, and get to know the players and teams, the best way to do that is to be a VOLUNTEER. To volunteer for this event, complete the Volunteer Registration below.
TEAMS:
Download, fill in, scan and email STAC Team Registration Form here.
All players must please read the International Rules for "Regu" Sepak Takraw here (http://sepaktakraw.ca/regu-sepak-takraw#specific-position) prior to event.
STAC's Official Score Sheet for Regu Sepak Takraw event can be viewed/downloaded here (http://sepaktakraw.ca/sites/default/files/2023-05/ScoreSheet-Regu.pdf)
VOLUNTEERS:
Download Volunteer Job List & Registration Form here.